Training and Recovery Tips for the Ski Season
Contributed by:
Alex Bunt, Athlete Performance Specialist for Red Bull and Former Trainer to Olympian Lindsey Vonn, and
Shraddha Bhatia, PT, DPT, OCS The Health Center at Hudson Yards who incorporates sports and yoga into her evidence-based treatment strategy
Before you hit the slopes this ski season, it's important to make sure you're doing everything you can to stay safe and build up the muscle you need to do your best. To get tips on what you can do to improve your game while on the slopes and recover when off the slopes, we asked our guest trainer Alex Bunt and our chief physical therapist Shraddha Bhatia, PT, DPT, OCS to provide their expertise.
Shraddha: My general rule of thumb for recreational skiers is consistent training for at least 2 months before the season begins. Lower body strengthening and core training is essential in preparing you for the season.
Alex: If you're looking to maximize the quality of your skiing throughout the season and get better as it goes on, you need to continue to train when not on the mountain. Fortunately it does not take much to maintain your off-season fitness gains. You can actually do 50% less of what you were doing back in the summer and fall. For example, if I normally ran for a total 2-hours each week to prep for ski season, then I only need to run for 1-hour each week during ski season to maintain my fitness; these maintenance sessions can also be conveniently split up into smaller sessions to total 1-hour of weekly training. Same holds for gym training; for example, if you were getting your leg muscles strong by doing squats for 4 sets of 10 reps, then during ski season you only need to do 2 sets of 5 reps to maintain your strength.
What can you do to make your muscles feel better after skiing?
Shraddha: Recovery is a good balance of sleep, nutrition (a protein dominant diet to promote muscle recovery) and hydration. Your baseline strength determines how soon the body can reset after a day of skiing. So preparation is key.
Alex: Use light exercise to "flush the muscles out" – you'll increase blood flow which will help bring oxygen and nutrients to the tired ski muscles. To feel fresher for your next day on the mountain, try an Aerobic Pulse session – spin on the bike at a light pace for 15-35 minutes interspersed with bouts of 5-second, high rpm sprints (increase resistance during these bursts).
A 35-minute Aerobic Pulse session looks like this:
3 Rounds of:
5-min Light Pace
5-min Light Pace w/ one 5-second sprint at the start of each minute
After the 3 rounds, finish with a 5-min very Light Pace cool-down
Are there any products you recommend to help with recovery?
Shraddha: No products specifically but a visit to the steam room, sauna or jacuzzi could help relax tense muscles and prevent hypothermia (lowering of body temperature). It would also be helpful to allow yourself 2-3 days post skiing to begin retraining in the gym.
Alex: Fortunately, all the best recovery methods are free! Sleep, relaxation, stress management and planned rest make up the bulk of your recovery. Aim for one to two days of planned rest per week; training 7-days in a row probably isn't the best idea. Always listen to your body and take a day off when you need it, even if it's not written in your training schedule. A rest day means a rest day – do something non-activity related.
What is one mistake you see people making over and over with their skiing?
Alex: Not taking a day off. With each successive day on the mountain fatigue within the muscles will build up and this accumulated fatigue will decrease the quality of your skiing. The amount of days you can ski in a row will depend on your fitness and experience level; on average, 4-days in a row is the limit. Pick your days on the hill, if you know one day is going to be bad weather, take the day off and enjoy other activities that the mountain has to offer. Maximize the good days and set yourself up for success by listening to your body and taking a day to rest.
After the season, what do you tell people to do to stay in shape?
Alex: Get back on a structured plan written by a qualified professional to guarantee you reach your fitness goals.
Shraddha: My universal advice to everyone who is not a professional athlete is to get up and move. Exercise as regularly and consistently as possible which can be a challenge given our work schedules. Set short-term training goals. And always ramp up your training based on the demands of your sport. In case of skiing, don't compromise the pre-season training period.
A version of this article is also published on The Related Life blog.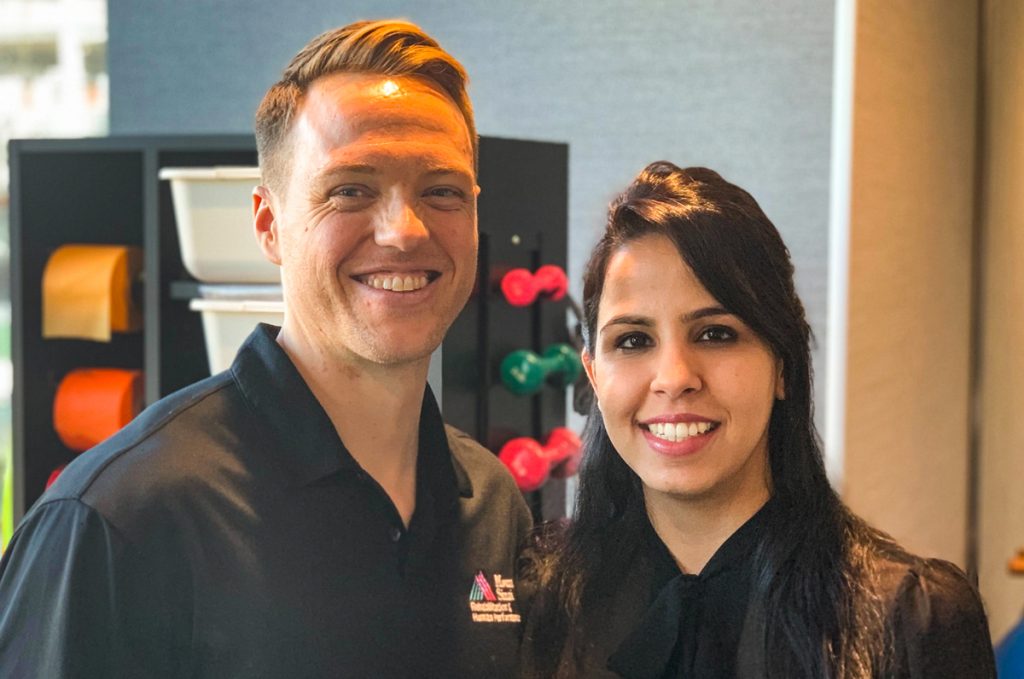 Alex Bunt is a Human Performance Specialist for Mount Sinai and Red Bull, whose expertise is in strength & conditioning, sport science, and exercise physiology. Alex was the full-time, traveling private trainer for Olympic Alpine skier Lindsey Vonn – supporting Lindsey in becoming the winningest female ski-racer of all-time by developing and managing all aspects of her preparation program.
Prior to working with Lindsey, Alex was involved in strength and conditioning for the University of Utah Pac-12 Cross Country, Alpine Ski, and Nordic Ski teams while attending graduate school at the University of Utah for exercise physiology.
Shraddha Bhatia, PT, DPT, OCS is an American Physical Therapy Association (APTA) granted board-certified Orthopedic Clinical Specialist, a certification attained by less than 8% of physical therapists' in the country. Shraddha's focus areas include but are not limited to pre/post-operative rehabilitation, sports rehabilitation, neck and back pain, rotator cuff injuries, labral tears, muscle strains, post-concussion syndrome, ACL rehabilitation and ankle/foot injuries. She works as a consultant for the USTA women's pro circuit covering a few tournaments every year. She also provides pelvic floor rehabilitation for women with pelvic pain/urinary incontinence, diastasis recti and pre/post-natal care. She takes special interest in treating tennis players and the running population.