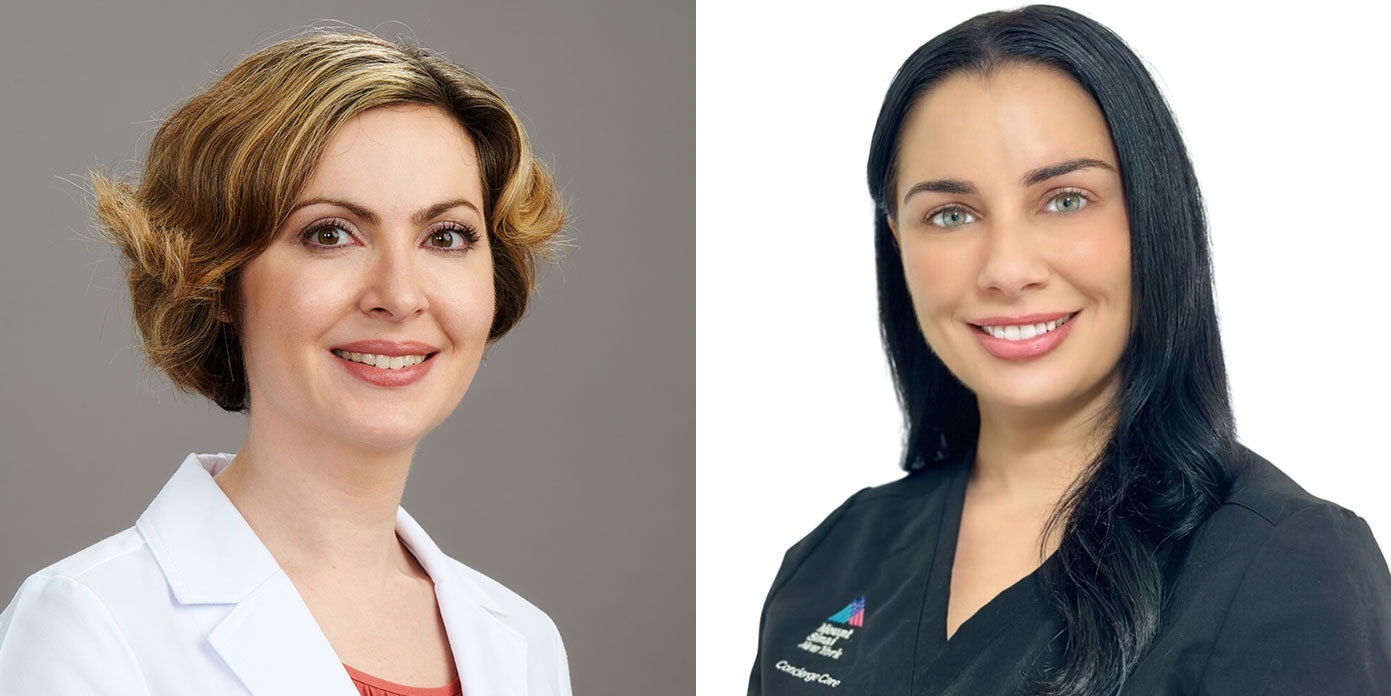 As we age, we wear the effects of sun, stress, and life experiences on our faces, bodies, and skin. At Mount Sinai New York-Palm Beach, we can help you reverse that trend and improve your appearance and confidence. Our highly skilled skin care team, Anna Krishtul, MD, dermatologist, and Ashley Lajud, licensed medical aesthetician, offer customized rejuvenating treatments designed to meet your individual needs.
Cosmetic Injectable Treatments
Cosmetic injectables are in-office treatments that can restore fullness to your face, plump lips, soften creases and wrinkles, and even correct volume loss of the back of the hands. We are pleased to offer a range of cosmetic injectables, including the following:
If you're looking to soften deep lines and restore volume loss,
FDA-approved injectable fillers offer a wide range of benefits. Depending on the type of filler used, the results usually last 9-12 months. Side effects are rare; however, you may experience some swelling (which could last a few days) or bruising (which could last up to two weeks). Please schedule a cosmetic consultation and let us know if you have a history of cold sores so that we can prescribe prophylactic anti-viral medication.
Juvederm® (Ultra®, Ultra Plus®, Vollure®, Volbella®, Voluma®)
Belotero®
Radiesse®
Injectable Neuromodulators (Botox®):
Our practice is highly skilled in using botulinum toxin (Botox®) injections to reduce lines and wrinkles on the face and neck, achieving a natural, youthful appearance. Side effects are uncommon, though you might notice bruising for up to a week. You should expect to see improvement as soon as one week, and results typically last three to four months. Please let us know if you are pregnant or nursing, allergic to eggs, or have certain neurological conditions, because they may impact treatment.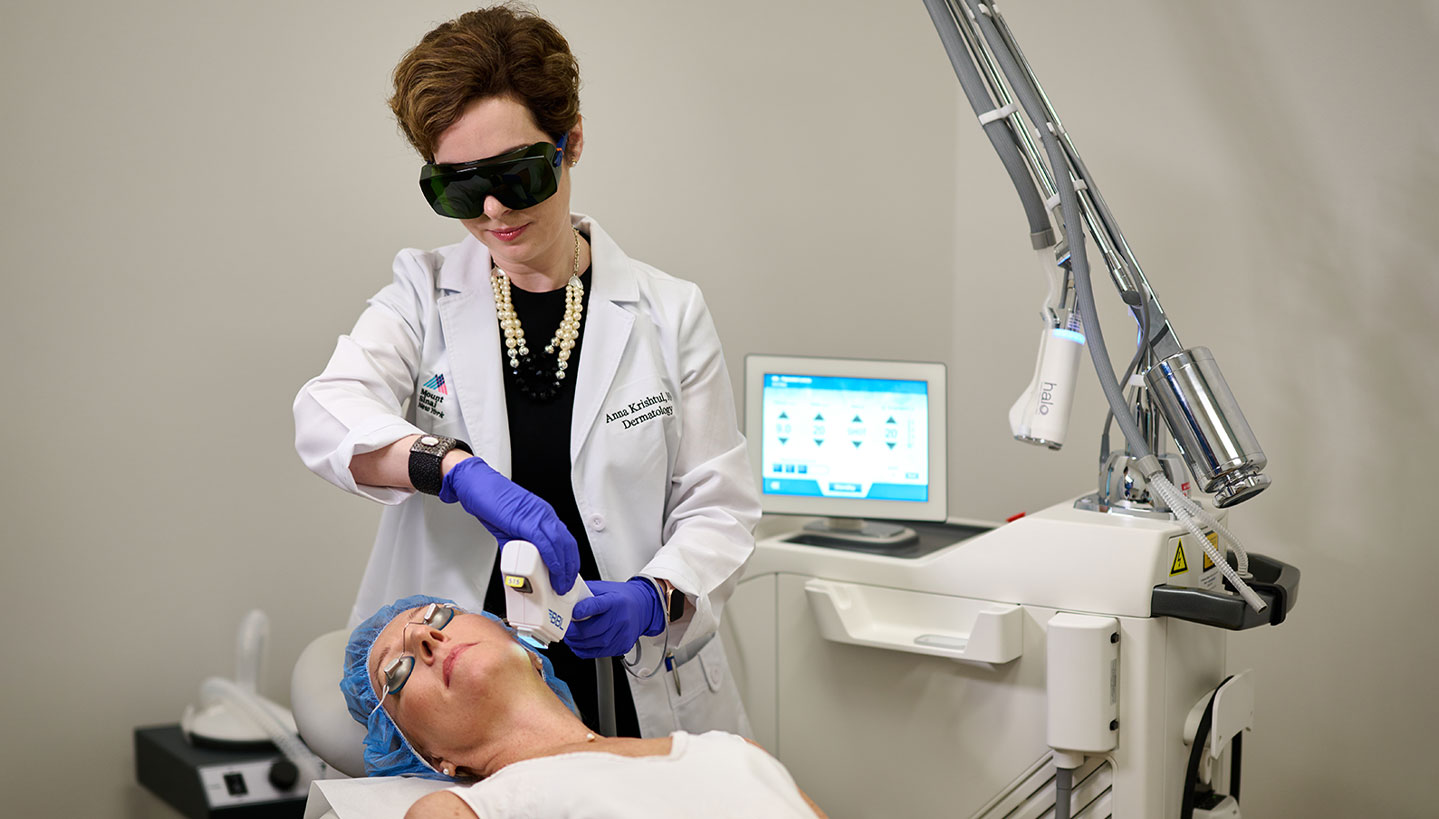 We offer state of the art light and laser-based procedures to address a variety of aesthetic and medical skin concerns. Initial consultation is advised to discuss your concerns and expectations and to provide a customized treatment plan.
Sciton BroadBand Light (BBL®) Hero™ is one of the most popular light-based procedures that improves visible signs of aging, such as sunspots, redness/rosacea, broken capillaries, and dull looking skin. We commonly treat face, neck, chest and arms/hands, but can be used virtually anywhere on the body. Light energy delivered by this device stimulates skin cells to regenerate and restore your skin's youthful appearance without significant downtime. Typically, we recommend a series of treatments for optimal results.
Sciton Forever Clear™ BBL® is a light-based treatment for acne which offers alternative to creams and medicines with undesired side effects. This comfortable, non-invasive procedure destroys acne-causing bacteria, reduces inflammation, redness and hyperpigmentation left from breakouts, and reduces the appearance of scars. Best results achieved with a series of regular treatments. Can be used anywhere in the body.
PHOSciton HALO™ is the world's only Hybrid Fractional Laser that combines a non-ablative and an ablative wavelength to deliver breathtaking skin resurfacing results with reduced downtime. HALO™ precisely targets damaged skin to dramatically improve appearance of fine lines and wrinkles, discoloration, sun damage, enlarged pores, acne scars and dull skin tone. It's a highly customizable treatment with light, medium or deep settings depending on patient's needs and desired downtime. HALO™ can be combined with BBL® procedure for synergistic effects. We recommend 1-2 treatments per year for the best results.
Laser Hair Reduction: We use lasers to destroy hair follicles and inhibit hair growth. This procedure is most effective in reducing dark, coarse hair and does not work on blond or gray hair or fine "peach fuzz." Typically, we recommend 6-10 sessions for optimal results. After the procedure, your skin will look a little red and irritated. Adherence to the advised treatment schedule is paramount in reaching your desired outcome.
To make an appointment, call 561-328-7112.
View the procedures offered by Ashley Lajud, our certified Aesthetician at Mount Sinai New York, Palm Beach.
Aesthetician Services
Skin Care Consultation
Meet with Ashley Lajud, our certified and experienced Aesthetician for a skincare consultation. She will thoroughly analyze your skin, discuss your concerns, and create a treatment plan to meet your skincare goals.
Facials
We offer a variety of facials, which are personalized to improve skin health and address individual concerns.
Hydrafacial®
iS Clinical® Fire & Ice Facial
Face Reality® acne facial
Deep Pore cleansing facial
Customized facial
Back facial
Chemical Peels
Chemical peels can be an effective treatment to improve the texture and clarity of the skin, diminish the appearance of hyperpigmentation, soften fine lines and wrinkles, and stimulate fibroblast activity increasing collagen and elastin production. Our Aesthetician will assess your skin to determine which peel will work best for you.
Dermaplaning
This exfoliating treatment is performed using a modified surgical blade and a delicate stroking technique to abrade the outermost layers of the skin. Along with exfoliating, dermaplaning also removes the unwanted "peach fuzz" hair from the face. It is a safe and painless procedure that clears dead outer skin cells, resulting in a more refined, smooth, and glowing appearance.
Pristine® Diamond-Peel Microdermabrasion
Using genuine laser-cut diamond-tip applicators, Pristine® exfoliates the skin surface while a gentle suction removes skin impurities. Removing dead skin cells uncovers fresh, clear, rejuvenated skin. Safe and effective for face and body, this treatment is painless and has minimal to no downtime.
This procedure uses a motor powered instrument with multiple tiny needles to prick the skin, producing controlled tissue injury. Your skin is prompted to "heal" itself by boosting its collagen and elastin production thus, improving fine lines and wrinkles, pore size, texture, and acne scarring. To minimize discomfort, we use a topical numbing cream prior to the procedure.
In order to further promote the healing process, this procedure could be performed in conjunction with platelet-rich plasma (PRP). This technique involves drawing a sample of the patient's blood and running it through a machine that concentrates the platelets and growth factors in your plasma. PRP is then applied to the skin throughout the microneedling procedure to further enhance natural wound healing and promote cell growth.
PRP can also be injected with a fine gauge needle directly into the skin to address particularly problematic areas and to help with hair thinning.
To make an appointment, call 561-328-7112.
.